Help young learners develop the skills they need to be successful in today's financial world.  Current volunteer opportunities are listed below!
YouthBiz pairs aspiring youth entrepreneurs with adult business leaders to help guide business strategy and development.
Volunteers provide valuable feedback for young entrepreneurs by judging pitch competitions and evaluating products.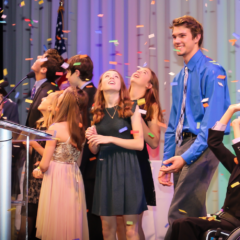 JUDGE OUR BUSINESS COMPETITION
Judges are needed to evaluate youth businesses as part of our Spotlight on YouthBiz Stars business competition.  Contact Betsy Sklar at bsklar@yacenter.org for more information.
Shop unique gifts direct from youth business owners each December and April.
VOLUNTEER IN YOUNG AMERITOWNE OR INTERNATIONAL TOWNE
Our day-of-towne volunteer opportunities are reserved for supporters.  We need your help (both financial and in-person) to continue bringing these powerful experiential learning programs to schools throughout Colorado. Please contact Betsy Sklar at bsklar@yacenter.org or 303-320-3245 to learn more.
For more information about any of the opportunities above or to sign up, contact Betsy Sklar at bsklar@yacenter.org or 303-320-3245.