Young AmeriTowne Benefits students, schools, and families
We have known for more than 30 years that Young AmeriTowne makes an impact.  Now we have the results to prove it!
A two-year independent evaluation study by the experts at QREM demonstrates that Young AmeriTowe benefits students, especially low-income students.  Plus, these benefits extend to students' families and their schools.  Watch this video to learn more.
Students made statistically significant gains
Students posted statistically significant increases in personal finance due to gains in valuing careers over employment, social emotional mobility and improvements in financial literacy.  Students also made statistically significant growth in attitudes toward school and civism largely due to increases in civic mindedness and philanthropy. Other important areas saw similar results.
Low-income students gained more
Even more notable are the results achieved by low-income students who outdid their peers from more affluent schools in several key skills including financial literacy, personal finance and business mindset.  In many cases the gains were two times greater.
Schools benefitted with higher math and ELA proficiency levels
The commitment to undertaking the Young AmeriTowne program pays dividends with higher math and ELA proficiency levels. Young AmeriTowne schools saw a 30% improvement from the 4th to the 5th grade in English Language Arts (ELA) proficiency and a 12% improvement in math proficiency. In low-income schools, gains in ELA were close to four times that seen in math which had strong results as well.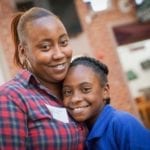 Families won, too
Families started using a budget (an increase from 80% to 90%) and checking it more regularly (monthly) after their child participated in Young AmeriTowne (an increase from 25% to 60%).
What Leads to these Impressive Results?
The Unique Structure of the Young AmeriTowne Program!
The Young AmeriTowne program first presents information to students in the classroom with lessons facilitated by trained teachers.  Then, the program provides students the opportunity to put those lessons into practice.  During their day in Young AmeriTowne, students work as managers, accountants and customer service representatives as they explore careers such as banker, physician, graphic designer among others.